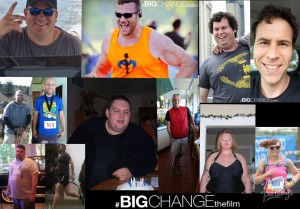 What started as a place to jot down some thoughts and connect with some people on my Facebook page has turned into a whirlwind of meetings and connecting with people all over the world. Interviews, messages, Skypes, and phone calls are all too surreal. I'm grateful, honored, humbled, and honestly, a little scared out of my mind. My plan was to toss my story out there and write a little about

some of the never-ending  shifts in thinking that I went through, and am still going through on my journey. I never imagined all the personal interactions I would have with people that are in the same place I was when I began. My passion is to help people see that there is no hole too deep and no place that is too far away to change, and change drastically. The change comes from one decision. The decision to wake up every single morning and decide that you want to be somewhere else more than you want to be where you are. That one decision to persistently and consistently to fight even when you don't see results. That one decision to wake up, open your book to a new chapter, take a sharp turn, and start writing a new chapter. That one decision, simply put, is to change, Big Change. Once the decision is made then you get to work and it is just a matter of your life and body  catching up with your decision.
Over the past couple months I have had the privilege of connecting with some pretty amazing people. Josh LaJaunie, a plant powered machine, actually the guy is a straight up superhero, connected me with Jason Cohen who is a photographer and film maker out of Louisiana. Jason is working on a project called Big Change The Film. Jason is a very humble, soft spoken guy that is passionate about this project. He passion stems from his own transformation. He has lost over 120 pounds and has changed his health and entire life. He now thrives on a plant-based lifestyle and wants to show everyone that change is possible and inspire people through his film and podcasts. He is truly an amazing guy and I am so thankful our paths crossed.
This week Jason interviewed Jared Monesmith. As I watched this plant-based transformation I couldn't help but wonder if this was even the same guy. Jared has an amazing story and definitely has found Big Change in his life. I had a chance to connect with Jared and he is an awesome guy. His big change was a little different than mine. His switch was immediate, he dropped all the fast food and animal products and went completely plant based overnight. He lost most of his 255 pounds in about 10 months which is staggering. Along with the weight he crushed an alcohol  addiction along with cigarettes.  Give his interview a watch, you wont be disappointed. This guy is a warrior! He is also a really nice guy.
After seeing all of these interviews and connecting with most of the people it amazes me how different all of our personalities, ages, geography, and lifestyles are and yet there is something similar inside of each of us that wants to change and wants to be healthy to live a fulfilling life. I honestly believe that the will to change and live healthy and fulfilling lives  is embedded by design in every human on the planet . I know it is Jason's hope to unleash that desire to change in every person that sees this film and these interviews. Another thing that amazes me about each one of these people  is their willingness to help other people to change their lives as well through motivation, encouragement and the sharing of information. Many of these people are perfect strangers. I'm sure I can speak for the rest of the crew when I say that helping other people is just part of the journey. Personally, I never signed up for that part but I can tell you that there is more satisfaction helping other people to become healthy than there was for myself. The effects are exponential. The people that are being helped start helping other people and the whole thing just snowballs. Sometimes I like to picture it like this giant wall everyone is trying to climb. The people above you are reaching down to help you up and at the same time you are reaching down to help the people below you get to your level. Just imagine the power behind that idea. If you really grasp the kind of energy and upward motion that is possible it will give you goosebumps. That is exactly how I imagine the power of this inspiring project, Big Change The Film.  I've said this more than once, and I'll say it again. This film has the power to save lives. This very minute there is someone that is ready to give up. There is someone that has had enough and ready to call it quits. Maybe seeing someone else in the same place they were will help them pick themselves up and have the courage to change, and to make a Big Change.
Please help get the message out there. Share Share Share
Jason is also looking for sponsors (click here) and support(click here). If you can help out with either that would be great!
Share this post
Just share it!
Hey, check my Facebook page and connect with me on fatmanrants.com   (click here)
"Eat plants, move your body. All ya got to do is a little more than ya did yesterday😉 "
Until next time,