Have you ever wondered why people don't exercise? Have you ever wondered why the gym sells the majority of their memberships in January and by February the gym is empty? According to Statistic Brain Research Institute a whopping 67% of all gym memberships never get used. I think the answer is very simple. ….Exercise is a bad deal….. That is, at least when it comes to calories burned. Calories burned vary from person to person but the average person will burn 125 calories per mile of running.  If you chow down a Snickers bar plan on running almost 3 miles to get back to zero. If you take a two-mile run you can enjoy 5 Oreos. Does chicken alfredo (from a popular franchise) sound good? Lace up your running shoes because you will have to run a half marathon to burn that entrée off.
The bottom line is that if you are exercising to deplete calories you are setting yourself up to fail. Exercise will never replace a healthy diet. As I started my journey on the healthy road this idea was not new to me. It also made a great excuse to never exercise. The very word "exercise" sounds like work, a sort of chore that has to be done.  To this day I have never exercised. Maybe this is a play on words but I have trained, I have trained hard. I have set short term goals and long term goals and I have trained until I crush them. I have also prepared for "adventures" as my wife and I call them. The preparation was very intense at times. Hiking 15 miles through the woods on a Saturday morning is what some would call exercise. I like to call it gratitude. I had spent my entire life complaining about everything that was wrong with me and my health. I had become so focused on the bad I looked right past the good. The best cure for being ungrateful is spending time with anyone, especially loved ones, that are terminal. The reality is that if you got out of bed this morning with your own power you have more than many people around the world and there are thousands of people who would switch places with you this moment. So maybe the key to exercise "grateful movement" is move your body with a purpose. Maybe, move your body for those who can't. Maybe, you'll find, like I did,  that exercise "grateful movement" has less to with a calorie burn and more to do with:
Feeling great – better range of motion –  easier breathing – experiencing new things – accomplishing goals – finish lines – new friends – better all around health – self-respect – loss of arthritis – lower cholesterol – lower blood pressure – better mood – fresh air – new experiences – accomplishment – better time management – endorphins 😉 – stress relief – pain-killer ……… the list goes on and on and on.
So scrap the idea of exercise, shut the TV off, and go enjoy life. Just move. If you can't move you legs then move your arms. If you can't move them move your fingers. Just move. My doctor told me that if every one of his patients would just walk for 30 minutes a day he would lose 75% of his patients. That is astounding to me.
Braces, crutches, canes, splints, I had them all. A few years ago my wife asked me to go for a walk. I asked her what was wrong with the car. She responded, "nothing, I just thought we could get some fresh air." I made it .74 miles and had to sit on a bench until I got picked up.  When I had recovered a few days later after ice packs and ibuprofen, we headed to the trail again. Little by little, mishap after mishap, I got better at walking. My ultimate goal was to walk to my mother's home that was exactly 2.9 miles away. I did it! I had torn the fascia on the bottom of my foot but I did it. I felt like I had taken the gold in the Olympics. Doctors told me I wouldn't be walking when I turned 30. With the lifestyle I had chosen I had almost made that a reality.  Since that walk I have walked hundreds and hundreds of miles. I have climbed 7 of the highest peaks in the Adirondacks.I have run thousands of miles, I have run a bunch of half marathons, and even a full marathon. I've kayaked and cycled hundreds of miles and experienced some of the coolest places on the planet. I have never exercised. I did however, move my body with a purpose, a purpose to live life to its absolute fullest. I move because I can, I move for those who can't. I will continue to lace up my stamps of gratitude untill I can no longer do so. Untill then, I am on a mission to stamp trails, roads, or wherever else my feet take me to lay down stamps with my shoes and empty my soul with thanks giving so that I can refill fill it with a new dose of gratitude bigger than the last.  I move gratefully on purpose to do just a little more than I did the day before. This is cliquish, but if I can do it, you can too! Find a new adventure. Push yourself a little and see what you're really made of.
Below is a picture of that bench I made it to on my first "official" walk with my wife. If I would have known where that walk would lead boy, would I have taken it sooner.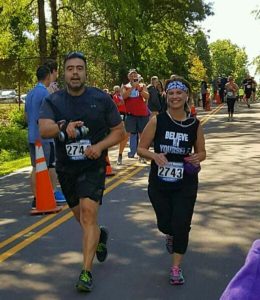 "Eat plants and move your body, all ya gotta do is a little more than yesterday."